Access / Sightseeing
ACCESS / SIGHTSEEING
"O-hiradai" is the last unexplored region of Hakone.
You will be able to enjoy
plenty of delicious water and fresh air.
Traffic Guide
ACCESS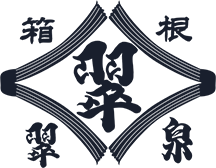 Hot spring inn,Hakone Suisen
〒250-0405
254, Ohihedai, Hakone-cho, Ashigarashita-gun, Kanagawa, Japan
TEL:
0460-83-9015
(main)
/
FAX: 0460-83-9016
By car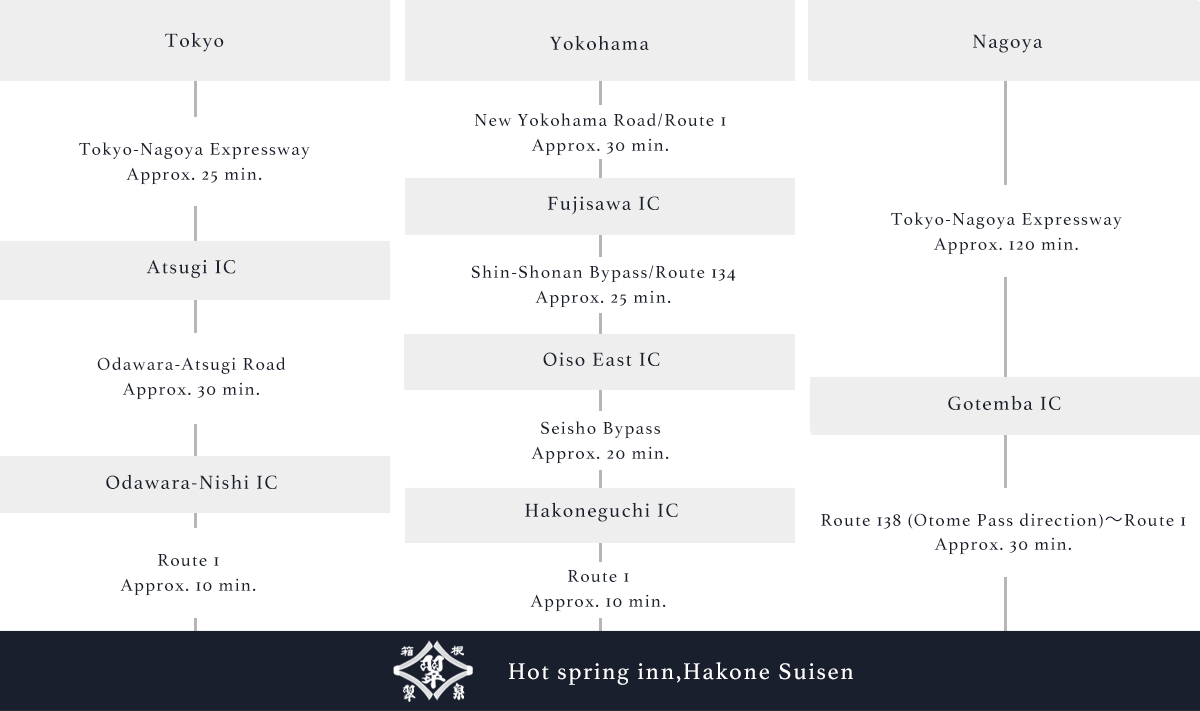 Tokyo
Tokyo-Nagoya Expressway Approx. 25 min.
Atsugi IC
Odawara-Atsugi Road Approx. 30 min.
Odawara-Nishi IC
Route 1 Approx. 10 min.
Hot spring inn,Hakone Suisen
Yokohama
New Yokohama Road/Route 1 Approx. 30 min.
Fujisawa IC
Shin-Shonan Bypass/Route 134 Approx. 25 min.
Oiso East IC
Seisho Bypass Approx. 20 min.
Hakoneguchi IC
Route 1 Approx. 10 min.
Hot spring inn,Hakone Suisen
Nagoya
Tokyo-Nagoya Expressway Approx. 120 min.
Gotemba IC
Route 138 (Otome Pass direction)~Route 1 Approx. 30 min.
Hot spring inn,Hakone Suisen
Parking information
Place
〒250-0405
349, Ohihedai, Hakone-cho, Ashigarashita-gun, Kanagawa
Number of units
15
Price
free
Other Notes / Cautions
・Please use Hakone Suisen parking lot.
The parking lot is a 4-5 minute walk from the hotel.
Please see below for details on the route from the hotel to the parking lot.

By train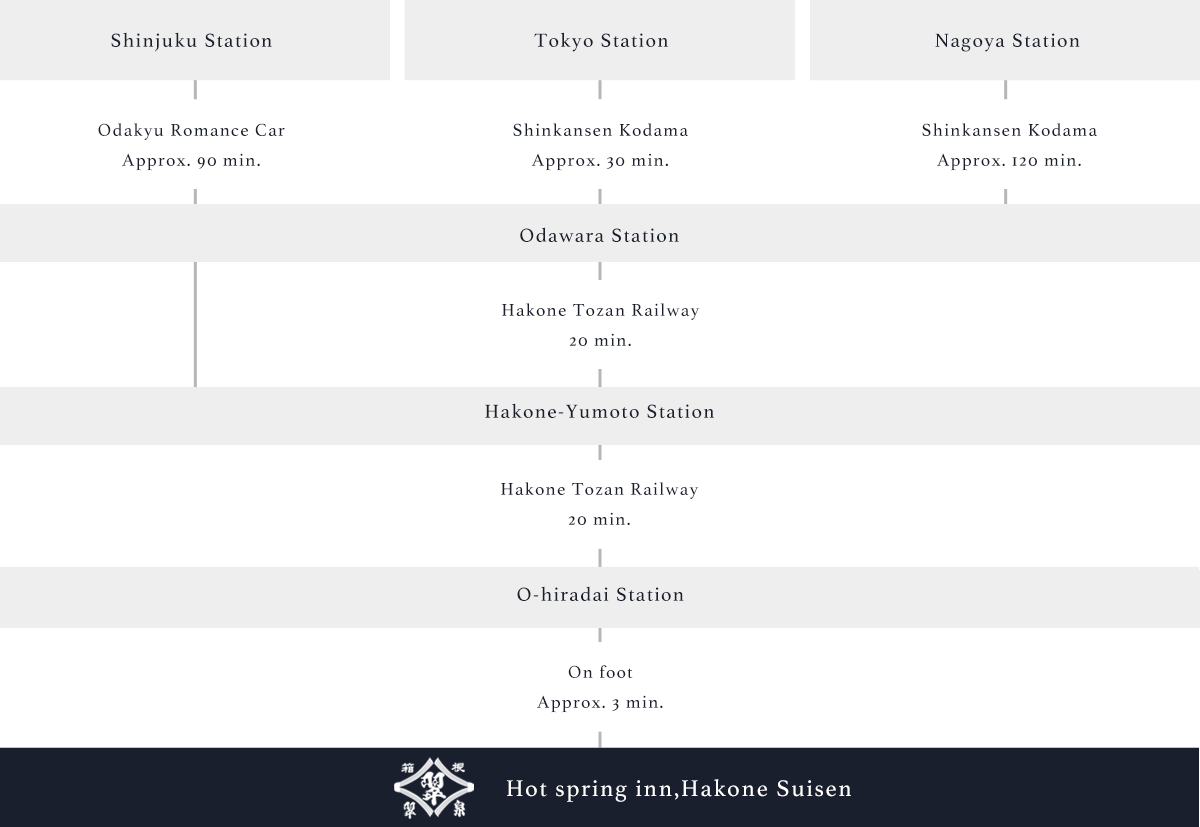 Shinjuku Station
Odakyu Romance Car Approx. 90 min.
Hakone-Yumoto Station
Hakone Tozan Railway 20 min.
O-hiradai Station
On foot Approx. 3 min.
Hot spring inn,Hakone Suisen
Tokyo Station
Shinkansen Kodama Approx. 30 min.
Odawara Station
Hakone Tozan Railway 20 min.
Hakone-Yumoto Station
Hakone Tozan Railway 20 min.
O-hiradai Station
On foot Approx. 3 min.
Hot spring inn,Hakone Suisen
Nagoya Station
Shinkansen Kodama Approx. 120 min.
Odawara Station
Hakone Tozan Railway 20 min.
Hakone-Yumoto Station
Hakone Tozan Railway 20 min.
O-hiradai Station
On foot Approx. 3 min.
Hot spring inn,Hakone Suisen

Tourist Information
SIGHTSEEING
Located at the gateway to Hakone,this is the best location for sightseeing in Hakone, Gotemba,
Mt and close to Tokyo, Yokohama, and other urban centers.
Sightseeing spots
in Hakone and O-hiradai
Sights to visit
The "O-hiradai Onsenkyo" is the last unexplored area in Hakone.
Please take your time
and enjoy the unspoiled wilderness.
Famous Hydrangea Train

Hydrangeas along the Hakone Tozan Railway bloom from mid-June. You can enjoy the hydrangeas blooming so close that you can touch them from the train window.

Shidare cherry blossom street

There are many clusters of cherry trees in O-hiradai, including Ishihara Park.

Dark green and red leaves

In spring, the mountains are surrounded by lush greenery, and in autumn, the various expressions of the changing leaves soothe the soul.

Frog Waterfall

The water is legendary for its ability to cure epidemic diseases, named after a frog that cured villagers' illnesses when there was an epidemic of bad diseases in the area in the past.

water of the Hime(princess)

This is gushing subsoil water from Mt. Asama, and is said to have been used by the princess of the Odawara Hojo clan as her morning and evening lotion.
It is also said that Hideyoshi used this water as a cosmetic for Princess Chujo during his attack on Odawara.

Hakone-en Aquarium

The aquarium has a seawater pavilion and a freshwater pavilion, and is home to 32,000 fish of about 450 species from around the world. Located at an elevation of 723 meters, the saltwater pavilion is the highest saltwater aquarium in Japan. At the Baikal Seal Plaza, seals perform charming tricks and are very popular.

Torii Yaki Festival

Lake Ashinoko is bustling with numerous festivals and fireworks displays, but the most popular of all is the Torii Yaki Festival! This is an ancient festival in which two torii gates, each 6 meters high and 6.7 meters long, are built near a lion tree where a male and female dragon are said to have appeared, and are used as bonfires to offer to the dragon god. When the torii gates are set on fire, fireworks dance in the air, creating a fantastic sight.

Owakudani volcanic area

Owakudani was once called "Hell Valley". You can see the hot spring water bubbling up from the ground and feel the power of nature and the living volcano. In fact, there are signs warning of harmful volcanic gases (sulfurous acid gas and hydrogen sulfide gas) in and around Owakudani. Visitors are warned not to stay for long periods of time and not to enter the area if they have weak bronchial tubes or a weak heart.

Hakone Onsen Public Bathhouse

There are currently five public bathhouses (so-called Sento) in Hakone that have been in operation for a long time as places of relaxation for the local people. Each has its own unique characteristics in terms of spring quality, bathroom design, and layout, and can be said to be deep spots in Hakone where you can feel the history and love of the local people.

Sengokuhara Japanese pampas grassland

The field of silver grass in Sengokuhara is indispensable when talking about silver grass in Hakone. It has been selected as one of the "Top 50 Scenic Spots in Kanagawa" and "Top 100 Flowering Spots in Kanagawa," and is a famous spot for silver grasses that attracts many tourists every year. The burning of the sooty field in early spring provides a powerful spectacle of a large flame burning out.

Hakone Daimonji ware

The Hakone Daimonji Fire Festival, one of the three major festivals in Hakone, is a summer tradition in Hakone that is enjoyed by many people every year. The first stroke of the "Daimonji" (large letter) is 108m, the second stroke 162m, and the third stroke 81m, and is made with 200 to 300 torches, each about 30cm in diameter and 2.5m high, bundled together from about 100 shinotake bamboos. The beautiful fireworks dancing on top of them is truly fantastic.
A sightseeing spot to visit with a little extra time.
O-hiradai is close to the city center and is an ideal base for sightseeing.
Odawara Castle Site Park

The castle ruins park is centered around the castle tower. The park has many attractions such as the NINJA Museum of History, Tokiwakimon SAMURAI Museum, children's amusement park, copper gate, local culture museum, armor dressing experience, irises, wisteria trellises, and more.

Ishigaki Mountain Ichiya castle History Park

This is the site of the castle that Toyotomi Hideyoshi used as his headquarters for the Battle of Odawara. The name comes from the legend that the castle was built as if it appeared overnight. From the Honmaru Monomidai, you can see the Odawara castle grounds, Sagami Bay, and even the Tokyo Sky Tree on a clear day. Right in front of the park is the Ichiyojo Yoroizuka Farm, which features a restaurant, patisserie, boulangerie, and a direct sales shop that offers dishes and sweets that can only be tasted here, with the aim of promoting farmland and local production for local consumption.

Odawara Fishing Port (Hayakawa Fishing Port)

Sagami Bay, which stretches out before you, is one of the three deepest bays in Japan and boasts a rich variety of fish species landed in each of the four seasons. Around the port you will find "Osakana Street" lined with fish restaurants serving freshly landed fish, and "Fishing Port Station TOTOCO Odawara," a fish theme park that opened in November 2019. On the fourth Saturday of every month, a "Port Morning Market" is held, selling fresh fish landed that morning, dried Odawara specialty fish, fish cakes, Satsuma-age, local vegetables and fruits, and other locally produced goods.

Mishima Skywalk

Boasting a total length of 400 meters, this is the longest pedestrian-only suspension bridge in Japan. The view from the suspension bridge connecting the two mountains is an unobstructed 360° panorama. In addition to the main suspension bridge, there are a variety of facilities to enjoy the entire outdoor experience, including an observation deck, a forest walking trail, a dog run, and a forest adventure. In addition, there are cafes, restaurants, and gift stores where you can taste Mishima's food products, allowing you to fully enjoy both nature and food in one spot.

Numazu Port

The area around the Numazu Port Restaurant District, where visitors can taste fresh seafood landed at Numazu Port, attracts many tourists every year. Numazu Port has been certified as a "Minato Oasis" and the Numazu Port area is becoming more and more crowded with the opening of the famous landmark, the large aquarium "Biuo", a fishery complex "INO", the commercial facility "Numazu Minato Shinsenkan", and the "Numazu Port Deep Sea Aquarium".

Atami Castle/Atami Museum of Treasures

Atami is famous for such unusual spots as Atami Castle and the Atami Museum of Hidden Treasures, but the Izu Peninsula itself is a treasure trove of unusual spots. Izu Gokurakuen, Maboroshi Expo, Cat Museum, Atelier Rocky Kaleidoscope Museum, Cafe Saru-to, etc.
If you like them, why don't you stretch your legs a little and visit them?

Fuji View Spot

Fuji, Fujiyoshida City has many spots where you can enjoy the spectacular view of Mt. Fuji, such as Shimoyoshida Honmachi-dori Street, Niikurayama Sengen Park (Churyo-to), Fuji Radar Dome Museum, and Kintorii (Golden Gate), but you can also find your own favorite spot.

Yoshida Fire Festival/Susuki Festival

Yoshida no Himatsuri (Fire Festival) is the autumn festival of both Kitaguchi Hongu Fuji Sengen Shrine and Suwa Shrine, and is held on August 26 and 27 every year as the festival of Mt. At dusk, more than 70 giant torches, tied together in the shape of 3-meter-high bamboo shoots, are lit. The fantastic sight of the torchlight illuminating a 2-km stretch of road is breathtaking. The festival continues to glow until late in the evening, and the festivities are sure to be a great success.

Shimoyoshida Station

At Shimoyoshida Station on the Fujikyuko Line, there is the Shimoyoshida Blue Train Terrace, where sleeping carriages once known as the Blue Train and the old Fuji Express trains equipped with observation seats that were used on the Fuji Kyuko Line are on display, and you can actually enter the Blue Train car by purchasing an admission ticket. Why not reminisce about the Blue Train trips of yesteryear?

Yoshida udon

The specialty of Fujiyoshida is, above all, Yoshida's udon. The harder you chew, the more you enjoy the flavor of the ingredients and broth, topped with sweet and spicy horse meat and boiled cabbage. The udon noodles are served in a special broth based on soy sauce and miso, and are an exquisite local delicacy that can only be enjoyed in Yoshida.

Nishiura Area

Fujiyoshida City once prospered from the weaving industry. The Nishinori-area in particular was once a bustling downtown area with many people. Many buildings and landscapes still retain the scent of the Showa period (1926-1989), and nightly drinkers gather at restaurants with a retro atmosphere. Let's visit the deepest spots in the Nishinori-area for a moment that can only be experienced here.

Komakado Kazaana (Komakado Wind Cave)

This is one of the largest lava caves in Japan. The main cave, called the "Main Hole," is approximately 243.72 meters long, and the temperature is a cool 13 degrees Celsius all year round. Fuji explosion, and the various patterns woven into the cave are the footprints of Mt. Fuji. It was designated as a national natural monument in the Taisho era (1912-1926).

Imperial Tire Inner Clear Hong Yuan

A beautiful park where visitors can encounter nature in each of the four seasons. Seasonal flowers, including cherry blossoms and azaleas, bloom in the park, showing their respective charms in spring, summer, fall, and winter. Within the park, there is a lava cave, a national natural treasure, known as "Gonai," which was created by the eruption of Mt. Because of its resemblance to the inside of a mother's womb, many visitors come to the park to pray for safe delivery, calling it a "power spot for children.

Fuji Speedway

With a history of more than 50 years, it is one of Japan's representative circuits and features a 1.5 km long straight, the longest in Japan. It is home to Japan's premier automobile race, the SUPER GT, Japan's premier automobile race, as well as the All-Japan Super Formula and endurance races are held at the circuit throughout the year.